HUBUNGAN SIFAT FISIK TANAH, PERAKARAN DAN HASIL UBI KAYU TAHUN KEDUA PADA ALFISOL JATIKERTO AKIBAT PEMBERIAN PUPUK ORGANIK DAN ANORGANIK (NPK)
Abstract
A Alfisol in South Malang regency many used to intensive on farming with dominant commodity is cassava. Farmers seldom cultivate cassava continuously, the continuous cropping of cassava leads to fast depletion of major nutrients especially N and K and will require fertilizer supplement to give stable yield. Farmers not applied organic fertilizer cause to this soil poor organic materials. The research in first year with organic and inorganic fertilizers can repair soil physics dan tuber yield of cassava.The object of this research was to study the effects of organic fertilizer application to change of soil physics and relation to root system of cassava, and to study the effect of fertilizer application to tuber yield of cassava in the second year.Field observations arranged in a Randomized Block Design of 10 treatment and 3 replications, in Jatikerto, Malang Regency. This research took time on September 2005 until Juli 2006. Observation parameter includes bulk density, particle density, soil porosity, aggregate stability, root system (Lrv and Drv) and tuber yield of cassava. Obtained data tested by using F test (5%), level 5% Duncan test, Orthogonal Contrast test, linear regression and correlation test.Research result is the application of organic fertilizer showed significant difference able to increase the soil porosity and decrease the bulk density. Organic and anorganic combination application higher to tuber yield of cassava when compared to only organic or anorganic fertilizer application. The influence of organic manure addition on repair soil physics show very real difference to root system. Correlations between bulk density with Lrv (r = -0.728*), Lrv with tuber yield (r = 0.706*).
Key words: soil phisycs, fertilizer, tuber yield and root system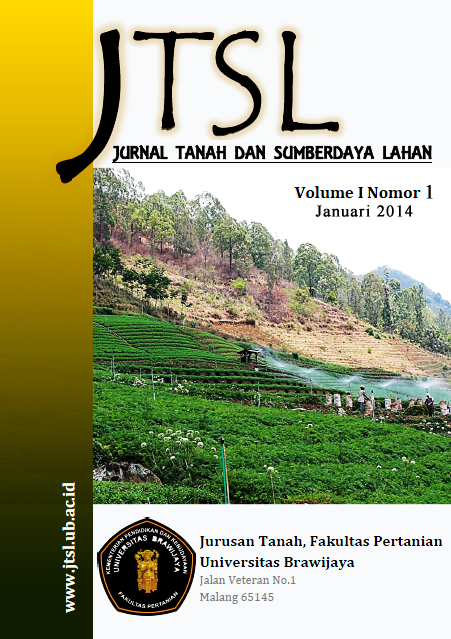 Downloads
How to Cite
Prasetyo, A., Utomo, W. H., & Listyorini, E. (2017). HUBUNGAN SIFAT FISIK TANAH, PERAKARAN DAN HASIL UBI KAYU TAHUN KEDUA PADA ALFISOL JATIKERTO AKIBAT PEMBERIAN PUPUK ORGANIK DAN ANORGANIK (NPK). Jurnal Tanah Dan Sumberdaya Lahan, 1(1), 27–37. Retrieved from https://jtsl.ub.ac.id/index.php/jtsl/article/view/97
License
The copyright of the received article shall be assigned to the journal as the publisher of the journal. The intended copyright includes the right to publish the article in various forms (including reprints). The journal maintains the publishing rights to the published articles.

This work is licensed under a Creative Commons Attribution-NonCommercial 4.0 International License.