BIOKONSENTRASI DAN TRANSLOKASI LOGAM BERAT Cd PADA TANAMAN BAWANG MERAH DENGAN APLIKASI AMELIORAN
Keywords:
bioaccumulation, cadmium, heavy metal, red onion, translocation
Abstract
Onion is a strategic commodity with many benefits and high economic value. So the production and quality of onion quality must be improved, one of which is quality support is free from heavy metal content which can have direct effect to human health. One source of heavy metals in vegetables is obtained from fertilizer applications. This study aims to obtain information on bioaccumulation and translocation value of onion crops that have been given amelioran application. This research was conducted in shallot field at Igirklanceng Village, Sirampog Sub-district, Brebes Regency. The treatment is done in the field by utilizing biochar, compost, and biofertilizer. The results showed that the BCF> 1 score on the roots and stems of biochar treatment and biological fertilizer. TF value> 1 on stem in biochar treatment, biochar + biological fertilizer, biocompos + biological fertilizer, farmer treatment. BCF and TF values of tuber <1 in all treatments.
References
Baker, A.J.M. dan Brooks, R.R. 1989. Terrestrial higher plants which hyperaccumulate metallic elements-a review of their distribution, ecology and phytocheistry. Biorecovery. 1: 81-126.
Chien, S.H., Carmona, G., Prochnow, L.L. dan Austin, E.R. 2003. Cadmium avalability from granulated and bulk-blended phosphate-potassium fertilizers. Journal of Environmental Quality 32:1911-1914
Hindersah, R. dan Simarmata, T. 2004. Kontribusi rizobakteri Azotobacter dalam meningkat- kan kesehatan tanah melalui fiksasi N2 dan produksi fitohormon di rizosfir. Jurnal Natur Indonesia. 6:127-133.
Leagreid, M., Buckman, O.C. and Kaarstad, O. 1999. Agriculture, Fertilizers, and The Environment. Cabi Publishing, Norway.
Mellem, J.J., Baijnath, H. and Odhav, B. 2012. Bioaccumulation of Cr, Hg, As, Pb, Cu and Ni with the ability for hyperaccumulation by Amaranthus dubius. African Journal of Agricultural Research. 7(4): 591-596, doi: 10.5897/AJAR11.1486.
Ogunlade, M.O. and .Agbeniyi, S.O. 2011. Impact of pesticides use on heavy metal pollution in cocao soil of Cross- River , Nigeria. African Journal of Agriculture Research 6(16): 3725-3728.
Siahaan, M.T.A., Ambariyanto, dan Yulianto, B. 2013. Pengaruh pemberian timbal (Pb) dengan konsentrasi berbeda terhadap klorofil, kandungan timbal pada akar dan daun, serta struktur histologi jaringan akar anakan mangrove Rhizophora sp.mucronata. Journal of Marine Research 2(2): 111-119.
Sopyan, R. Sikanna, dan Sumarni, N.K. 2014. Fitoakumulasi merkuri oleh akar tanaman bayam duri (Amarantus spinosus Linn.) pada tanah tercemar. Online Journal of Natural Science. 3(1): 31-39, http://dx.doi.org/10.2012/.
Sumarni, N dan Hidayat, A. 2005. Panduan Teknis: Budidaya Bawang Merah. Balai Penelitian Tanaman Sayuran. Puslitabang Horti. Badan Penelitian dan Pengembangan Pertanian.
Usman, A.R.A., Alkredaa, R.S. and Al-Wabel, M.I. 2013. Heavy metal contamination in sediments and mangroves from the coast of Red Sea: Avicenniasp. marina as potential metal bioaccumulator. Ecotoxicol Environ Saf. 97: 263-270, http://dx. doi.org/10.1016/j.ecoenv.2013.08.009.
Widaningrum, Miskiyah, dan Suismono. 2007. Bahaya kontaminasi logam berat dalam sayuran dan alternatif pencegahan cemarannya. Buletin Teknologi Pascapanen Pertanian 3: 16-27.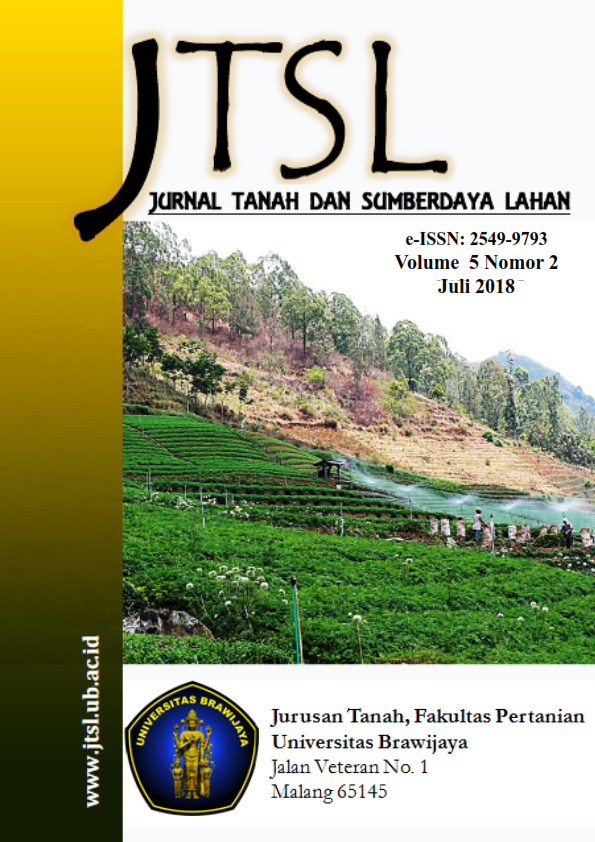 Downloads
How to Cite
Handayani, C. O., Dewi, T., & Hidayah, A. (2018). BIOKONSENTRASI DAN TRANSLOKASI LOGAM BERAT Cd PADA TANAMAN BAWANG MERAH DENGAN APLIKASI AMELIORAN. Jurnal Tanah Dan Sumberdaya Lahan, 5(2), 841–845. Retrieved from https://jtsl.ub.ac.id/index.php/jtsl/article/view/206
License
The copyright of the received article shall be assigned to the journal as the publisher of the journal. The intended copyright includes the right to publish the article in various forms (including reprints). The journal maintains the publishing rights to the published articles.

This work is licensed under a Creative Commons Attribution-NonCommercial 4.0 International License.