PEMANFAATAN GIS (GEOGRAPHIC INFORMATION SYSTEM) UNTUK PEMETAAN VERIFIKASI SISIP DAN POKOK PADA PERKEBUNAN KELAPA SAWIT DI KABUPATEN KUTAI BARAT KALIMANTAN TIMUR
Keywords:
aerial photography, Geographic Information System, verification, waypoint
Abstract
Verification of oil palm plants is done to cross check with census data on the number of plants to find out the number of oil palm plants in each. Unfortunately the company still has difficulty detecting the amount of palm oil in each block. One effort to overcome this problem is to use GIS (Geographic Information System). The purpose of this study was to determine the effect and differences in the use of photogrammetric methods with the waypoint method, the role of GIS (Geographic Information System) and determine the number of oil palm trees to be planted in the blocks in Afdeling I and Afdeling IV. This research through the preparation stage by preparing a sub-block map and flight plan, data collection stage by collecting aerial photo data, waypoint, block SHP, information on block area, planting year information and initial basic information on oil palm, the data processing stage using the mosaicking approach on the Agisoft PhotoScan Propessional application, waypoint conversion with Global Mapper and overlaying aerial photos with a waypoint with ArcMap 10.3. The results showed that the waypoint using GPS had higher accuracy compared to aerial photography and had an effect on the overlay results at the planned waypoint distance with the initial principal palm oil object. GIS is useful for processing aerial photo data and waypoints from GPS, and can speed up side verification. The plan is to insert in the B37 Block as many as 462 principal, B38 Block as many as 928 principal, B39 Block as many as 1,611 principal, B40 Block 351 principal, Block D29 1,063 principal, D30 Block 1,085, A53a Block 2,665 principal, A55a Block 539 subjects , C55 Block as many as 371, C56 Block as many as 510 principal, D55 Block as many as 157 principal, D56 Block as many as 375 principal, D57 Block as many as 1,561 and Block D59 with 1,431.
References
Adi, A.P., Prasetyo, Y. dan Yuwono, B.D. 2017. Pengujian akurasi dan ketelitian planimetrik pada pemetaan bidang tanah pemukiman skala besar menggunakan wahana Unmanned Aerial Vehicle (UAV). Jurnal Geodesi Undip 6 (1) : 2018-217.
Pahan, I. 2012. Panduan Lengkap Kelapa Sawit. Penebar Swadaya, Jakarta.
Prahasta, E. 2009. Sistem Informasi Geografis Konsep-Konsep Dasar (Perspektif Geodesi & Geomatika. Bandung: Informatika. Hal 150-151
Purnomo, L. 2018. Penggunaan Drone Untuk Pemetaan. Diakses melalui https://www.liupurnomo.com pada tanggal 17 Januari 2019 pukul 11:34
Sarana Informasi Pertanian. 2015. Penyisipan Tanaman Kelapa Sawit. Diakses melalui https://tangkaikayu.com/penyisipan-tanaman-kelapa-sawit/ pada tanggal 31 Januari 2019 pukul 18:48
Sugianto, 2010. Sistem Informasi Geografis Untuk Pemetaan dan Analisa Daerah Pertanian Di Kabupaten Ponorogo. Insititut Teknologi Sepuluh Nopember Surabaya: jurusan Teknologi Informasi.
Tim Penyusun SOP. 2012. Sensus Pokok dan Produksi. PT Ketapang Agro Lestari (First Resources Group).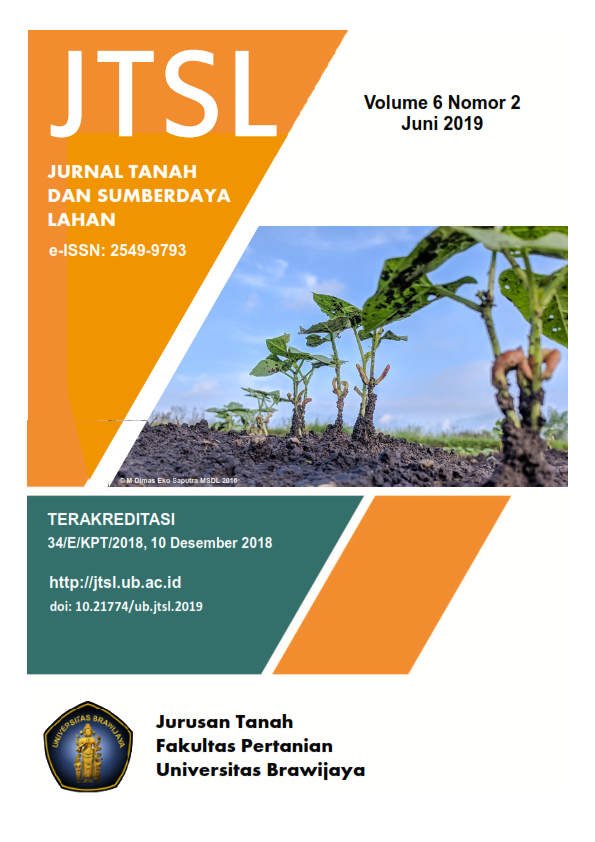 Downloads
How to Cite
Muslim, B. F., & Munir, M. (2019). PEMANFAATAN GIS (GEOGRAPHIC INFORMATION SYSTEM) UNTUK PEMETAAN VERIFIKASI SISIP DAN POKOK PADA PERKEBUNAN KELAPA SAWIT DI KABUPATEN KUTAI BARAT KALIMANTAN TIMUR. Jurnal Tanah Dan Sumberdaya Lahan, 6(2), 1333–1340. https://doi.org/10.21776/ub.jtsl.2019.006.2.14
License
The copyright of the received article shall be assigned to the journal as the publisher of the journal. The intended copyright includes the right to publish the article in various forms (including reprints). The journal maintains the publishing rights to the published articles.

This work is licensed under a Creative Commons Attribution-NonCommercial 4.0 International License.