PENGARUH PUPUK HAYATI TERHADAP PERTUMBUHAN TANAMAN, DAN POPULASI BAKTERI PELARUT KALIUM PADA TANAMAN TEBU (Saccharum officinarum L.)
Keywords:
biofertilizer, potassium solubilizing bacteria, sugarcane production
Abstract
Biofertilizer applications are needed to improve soil quality such as soil productivity and increasing the efficiency of the fertilization. Availability of nutrients in the soil is affected by microbes found in the soil. Soil microbes reproduce themselves and active in supplying nutrients to plants by releasing nutrients that are bound to be available to plants. The aim of this research was to observe and analyze the effect of biofertilizer on sugarcane growth and its effect on the population of potassium solubilizing bacteria. Results showed that The application of basic fertilizer combined with biofertilizer has a significant effect on the growth of sugarcane both in plant height and diameter of the stem. In the parameters of plant height, the best treatment was A5 which was a combination of anorganic fertilizer + 200% biofertilizer same as the other plant growth parameter which was stem diameter. Then on the production parameters, fresh plant weight and root weight, best treatment was A5. As for the parameters of potassium solubilizing bacteria, the best treatment that increased population was treatment A4 which was basic fertilizer combined with 150% biofertilizers. In total soil bacteria, the various application doses of biofertilizers did not have a significant effect. However, there was an increase of 0,49% in treatment A5 (basic fertilizer+200% biological fertilizer) compared to control (A1). The application of biofertilizer also did not have a significant effect on the parameters of organic matter and soil water content
References
Archana, D.S. 2007. Study on potassium solubilizing bacteria. Dharwad (IN). University of Agricultural Sciences
Ashraf, M.Y. 2008. Effect of different sources and rates of nitrogen and supra optimal level of potassium fertilization on growth, yield and nutrient uptake by sugarcane growth under saline conditions. Pakistan Journal of Botany. 40(4):1529-1530
Asie, V., Panupesi, H. dan Asie, R.E. 2012. Pengaruh pemberian kombinasi amelioran dan NPK terhadap pertumbuhan dan hasil dua varietas kedelai pada tanah gambur pedalaman. Jurnal Agri Peat 12(1): 1-8.
Basuki, B.H., Purwanto, B.H. Sunarminto, S.N. dan Utami, H. 2015. Analisis cluster sebaran hara makro dan rekomendasi pemupukan untuk tanaman tebu (Saccharum officinarum Linn.). Ilmu Pertanian 18 (3): 118 – 126.
Brown S. and Lugo, A.E. 1990. Tropical secondary forests. Journal of Tropical Ecology 6(01): 1-32.
Ghaffar, A., Saleem, M.F., Ali, A. and Ranjha, A.M. 2010. Effect of K2O levels and its application time on growth and yield of sugarcane. Journal of Agricultural Research 48(3):320-321.
Hakim, A.M. dan Arifin, W. 2007. Pemberian Berbagai Pupuk pada Pertumbuhan Tanaman Hortikultura. Penerbit Kanisius. Yogyakarta
Harista, F.I. dan Soemarno. 2017. Sebaran status bahan organik sebagai dasar pengelolaan kesuburan tanah pada perkebunan tebu (Saccharum officinarum L.) lahan kering berpasir di PT. Perkebunan Nusantara X, Djengkol-Kediri. Jurnal Tanah dan Sumberdaya Lahan 4 (2): 609-610.
Khan, A.I., Khatri, A., Nizamani, G.S., Siddiqul, M.A., Raza, S. dan Dahar, N.A. 2005. Effect of NPK fertilizers on the growth of sugarcane clone AEC86-347 developed at Nia, Tando Jam, Pakistan. Pakistan Journal of Botany 37(2):358.
Lazcano, C., Brandon, M., Revilla, P. And Domingues, J. 2013. Shortterm effects of organic and inorganic fertilizers on soil microbial community structure and function. Journal Biology and Fertility of Soils 49:723-73.
Lingle, S.E., Wiedenfeld, R.P. and Irvine, J.E. 2000. Sugarcane response to saline irrigation water. Journal of Plant Nutrition. 23:477-480.
Purnomo, T., Mujanah, S., Susanti, dan Tiuma, W.P. 2014. Pengaruh penggunaan pupuk organik hayati terhadap sifat kimia tanah pertanian di Kecamatan Pare Kabupaten Kediri. Jurnal Agroknow 2 (1): 51-58.
Roesch, L.F., Camargo, F., Selbach, P., Sa, E.S. and Passaglia, L. 2005. Identificatiom of mays cultivar effective in Nitrogen and diastrophic bacteria association. Rural Science 35: 924-927
Rogers, J.R., Bennett, P.C. and Choi, W.J. 1998. Feldspars as a source of nutrients for microorganisms. American Minerals. 83: 1532-1540.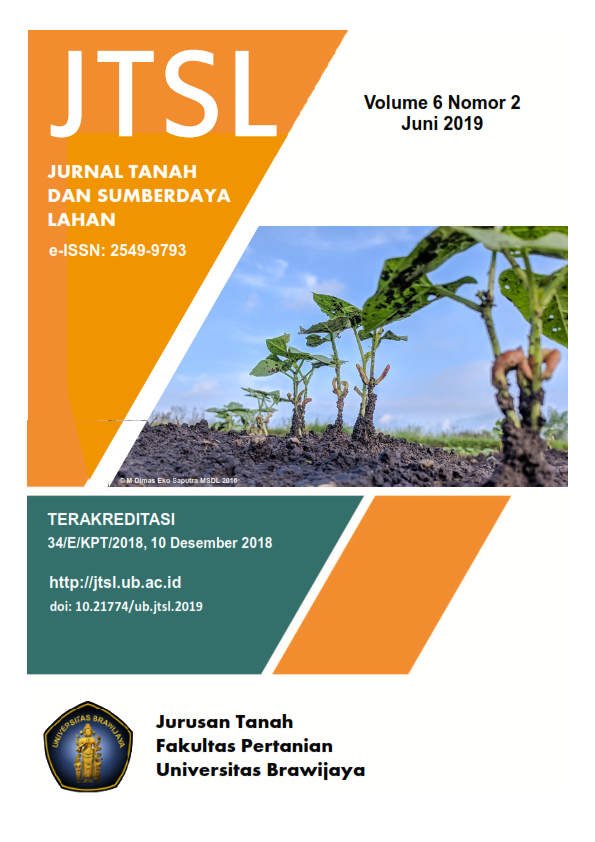 Downloads
How to Cite
Syavitri, D. A., Prayogo, C., & Gunawan, S. (2019). PENGARUH PUPUK HAYATI TERHADAP PERTUMBUHAN TANAMAN, DAN POPULASI BAKTERI PELARUT KALIUM PADA TANAMAN TEBU (Saccharum officinarum L.). Jurnal Tanah Dan Sumberdaya Lahan, 6(2), 1341–1352. https://doi.org/10.21776/ub.jtsl.2019.006.2.15
License
The copyright of the received article shall be assigned to the journal as the publisher of the journal. The intended copyright includes the right to publish the article in various forms (including reprints). The journal maintains the publishing rights to the published articles.

This work is licensed under a Creative Commons Attribution-NonCommercial 4.0 International License.