TATA KELOLA TAMAN NASIONAL MERU BETIRI (TNMB) BERDASARKAN ASPEK GEOLOGI LINGKUNGAN
Keywords:
environmental geology, governance, land capability zones, land use, natural conservation
Abstract
Meru Betiri National Park (TNMB) is a natural conservation area related to land use that impact on the environment. Land-use suitability with land capability is essential so that the impact of the geological environment that can occur can be reduced and controlled. The research aims to determine the aspects of environmental geology and zoning land capability for governance of TNMB. Geological aspects of the environmental order that support this research are morphology (slope), lithology, hydrogeology (river density), and land cover. Each aspect is a parameter in the Analytical Hierarchy Process (AHP) evaluation method. The weight of each parameter of the AHP evaluation result is 26% for slope, 19% for lithology, 11% for river density, and 44% for land cover. The result of overlay parameters yields a score of each zoning and is classified into 4 (four) zoning land capabilities for governance of TNMB. The land use zone for governance of TNMB is divided into high capability zones, medium capability, low capability, and very low capability. High and medium capability zones can be used as conservation of TNMB primary forests.
References
Saaty, T.L. 1980, The Analytic Hierarchy Process. McGraw-Hill, New York. (This book has been translated into Chinese by S. Xu et al.; information is available from them at the Inst. of Systems Engineering, Tianjin Univ., Tianjin, China.) (A translation into Russian by R. Vachnadze is currently underway).
Sapei, T., Suganda A.H., Astadiredja, K.A.S. dan Suharsono, 1992, Peta Geologi Lembar Jember, Bandung : Pusat Penelitian dan Pengembangan Geologi.
Siddy, P. dan Irawan, J. F. 2013, Kegiatan Analisis Citra Satelit dan Sistem Informasi Geografis (SIG) di Taman Nasional Meru Betiri, Jawa Timur, Banyuwangi : Pusat Standardisasi Dan Lingkungan, Kementerian Kehutanan Dan Forest Carbon Partnership Facility - World Bank.
Soetoto, 2000. Interpretasi Citra Untuk Survey Geologi. Pelatihan Penginderaan Jauh dan Sistem Informasi Geografis Untuk Sumberdaya. Kerjasama PUSPICS Fakultas Geografi UGM dengan Bakosurtanal.
Zolekar R.B. and Bhagat, V.S. 2015, Multi-criteria land suitability analysis for agriculture in hill zone: remote sensing and GIS approach. Computers and Electronics in Agriculture 118 (2015) 300-321.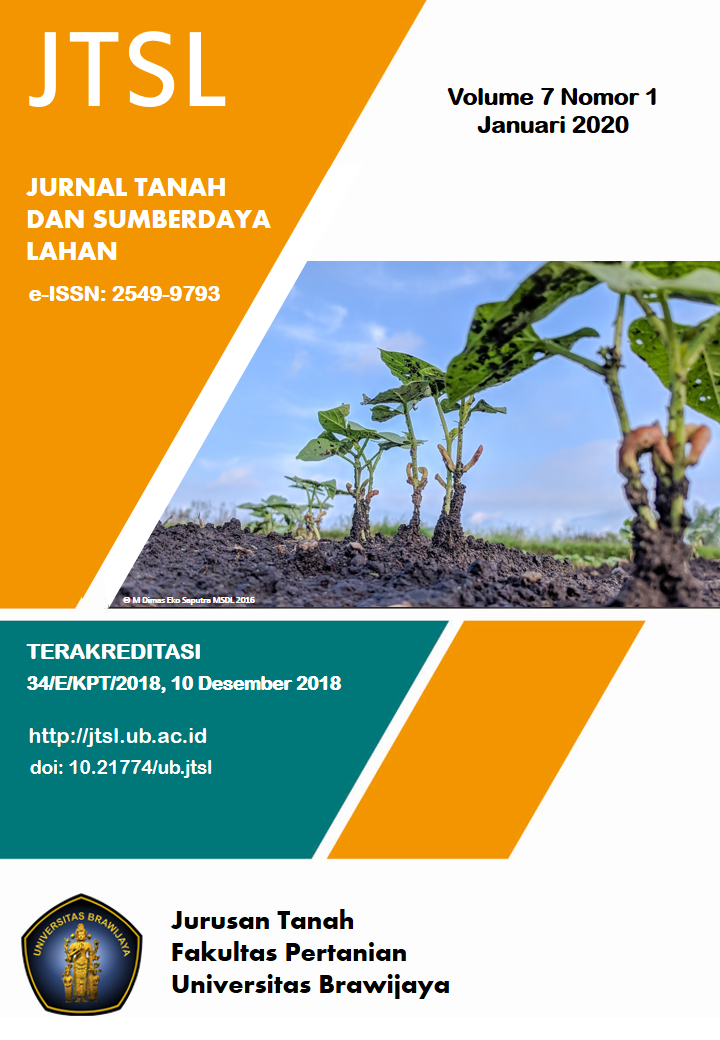 Downloads
How to Cite
Zaenurrohman, J. A., Irawan, J. F., Permanajati, I., & Iswahyudi, S. (2020). TATA KELOLA TAMAN NASIONAL MERU BETIRI (TNMB) BERDASARKAN ASPEK GEOLOGI LINGKUNGAN. Jurnal Tanah Dan Sumberdaya Lahan, 7(1), 15–20. https://doi.org/10.21776/ub.jtsl.2020.007.1.3
License
The copyright of the received article shall be assigned to the journal as the publisher of the journal. The intended copyright includes the right to publish the article in various forms (including reprints). The journal maintains the publishing rights to the published articles.

This work is licensed under a Creative Commons Attribution-NonCommercial 4.0 International License.