MONITORING HAMA DAN PENYAKIT TANAMAN DALAM PERLINDUNGAN KOLEKSI TANAMAN DI KEBUN RAYA PURWODADI
Keywords:
ex-situ conservation, monitoring, plant pests and diseases
Abstract
Purwodadi Botanical Garden is a botanical garden that specifically designated to ex situ plant conservation with typical habitats of low lands and dry areas. In an effort to protect and maintain the collection of plants, one of the things that must be carried out is the monitoring of plant pests and diseases. The research aimed to find out the plant pests and diseases that infect in plant collections at Vak I-V in Purwodadi Botanical Gardens. The method used was a descriptive observation and literature study, while the secondary data were books and environmental maps. There were nine types of pests and nine types of diseases. Pests and diseases are dominated by Leaf Spot Disease, Black Ants, Red Ants, and Lawana candida. They attack some plants, such as from family of Sapotaceae, Sterculiaceae, Mimosaceae, Moraceae, etc. The results of this study can be used as a material consideration in efforts to prevent and increase ex-situ conservation in the Purwodadi Botanical Garden.
References
Boyce, J.S. 1961. Forest Pathology. Third Edition. McGraw Hill Book Company, Inc. New York.
Damaiyani, J. dan Lestari, D. 2011. Inventarisasi hama dan penyakit pada koleksi paku-pakuan Kebun Raya Purwodadi. Berkala Penelitian Hayati. Edisi Khusus 7A: 173-177.
Huang, H.T. and Yang P. 1987. The ancient cultured citrus ant. Journal of Bioscience 37: 665–671.
Lim, G.T. 2007. Enhancing The Weaver Ant, Oecophylla smaragdina for Biological Control of a Shoot Borer, Hypsipilla robusta in Malaysia Mahagony Plantation. Dissertation the Virginia Polythecnic Institute and State University. Virginia.
Nasution, A. S. 2008. Pengenalan Patologi/Penyakit Tumbuhan. http:/ /sanoesi.wordpress.com/2008/12/17/pengenalan-patologipenyakit-tumbuhan/(Diakses 6 September 2019).
Offenberg, J. and Wiwatwitaya, D. 2006. Sustainable weaver ant (Oecophylla smaragdina) farming: harvest yields and effect on worker ant density. Journal of Asian Myrmecology 3: 55-62.
Pracaya. 1992. Hama dan Penyalit Tanaman. Penebar Swadaya. Jakarta.
Pranata. 1982. Hama dan Penyakit Tanaman. Penebar Swadaya, Jakarta.
Saleh, N. 2010. Optimalisai pengendalian terpadu penyakit bercak daun dan karat pada kacang tanah. Pengembangan Inovasi Pertanian 3(4):289-305.
Sari, D.K. 2013. Identifikasi Serangga Penyebab Hama pada Beberapa Genus Anggrek Koleksi Kebun Raya Purwodadi–Lipi. Jurusan Biologi Fakultas Matematika dan Ilmu Pengetahuan Alam Universitas Brawijaya. Malang.
Triharso. 1996. Dasar-Dasar Perlindungan Tanaman. Gadjah Mada University Press, Yogyakarta.
Way, M.J. and Khoo, K.C. 1992. Role of ants in pest management. Annual Review of Entomology 37: 479-503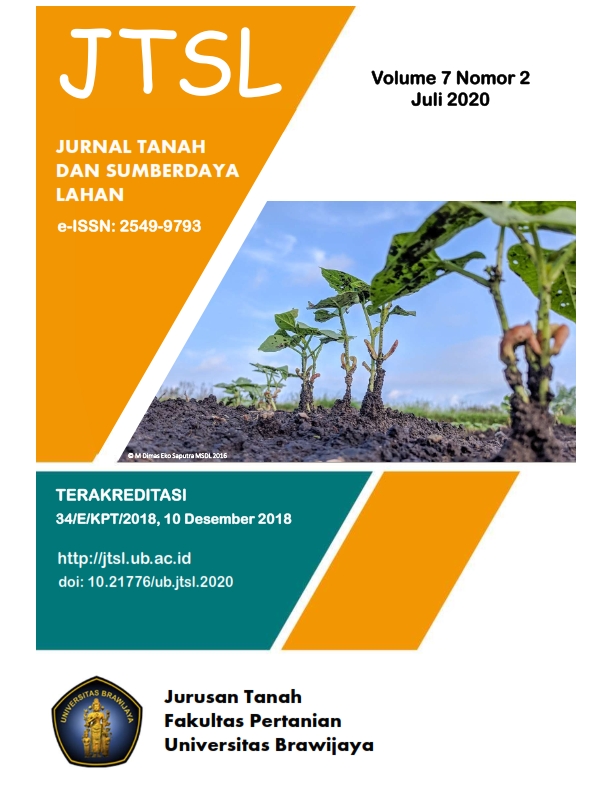 Downloads
How to Cite
Ningrum, L. W., & Retnosari, D. (2020). MONITORING HAMA DAN PENYAKIT TANAMAN DALAM PERLINDUNGAN KOLEKSI TANAMAN DI KEBUN RAYA PURWODADI. Jurnal Tanah Dan Sumberdaya Lahan, 7(2), 305–314. https://doi.org/10.21776/ub.jtsl.2020.007.2.15
License
The copyright of the received article shall be assigned to the journal as the publisher of the journal. The intended copyright includes the right to publish the article in various forms (including reprints). The journal maintains the publishing rights to the published articles.

This work is licensed under a Creative Commons Attribution-NonCommercial 4.0 International License.