PEMBERIAN BIOCHAR DIPERKAYA TRICHODERMA DENGAN PENAMBAHAN AMONIUM NITRAT UNTUK MENINGKATKAN PERTUMBUHAN BIBIT KOPI ARABIKA
Keywords:
ammonium nitrate, arabica coffee, biochar, Trichoderma
Abstract
Coffee is a source of foreign exchange that plays an important role in the development of the plantation industry. However, many coffee-producing regions have experienced quite detrimental yields in recent years due to the rust of coffee leaves (Hemileia vastatrix), a parasitic fungus that reduces yields and that can ultimately kill coffee plants. The use of biochar enriched with Trichoderma can help to improve soil conditions and increase crop production because biochar can increase the availability of N and P. Trichoderma as a biocontrol agent that can help in solving the problem of coffee leaf rust. This study that was conducted at Gondorejo Village, Oro-oro Ombo sub-district, Batu District used a completely randomized design with seven treatments and four replications. The results showed that the application of media with a composition of 1% biochar enriched with Trichoderma supported the growth of Arabica coffee seedlings at the age of 3 months. It can be seen from the available N content, which showed an increase and the number of leaves which had the highest increase among other treatments. This indicated that the composition was sufficient to support good media for the growth of Arabica coffee seedlings.
References
Balai Penelitian Tanah. 2009. Petunjuk Teknis Analisis Kimia Tanah, Tanaman, Air, dan Pupuk. Balai Penelitian Tanah. Badan dan Pengembangan Pertanian. Departemen Pertanian. Bogor.
Draper, K. and Tomlinson, T. 2015. The Potential for Biochar to Deliver Greater Sustainability for Coffee Cultivation and Processing: A White Paper. International Biochar Initiative.
Kurniawan, A., Haryono, B., Baskara, M. dan Tyasmoro, S. Y. 2016. Pengaruh penggunaan biochar pada media tanam terhadap pertumbuhan bibit tanaman tebu (Saccharum officinarum L.). Jurnal Produksi Tanaman 4(2): 153-160.
Laviendi, A., Ginting, J. dan Irsal. 2017. Pengaruh perbandingan media tanam kompos kulit biji kopi dan pemberian pupuk NPK (15:15:15) terhadap pertumbuhan bibit kopi (Coffe arabica L.) di rumah kaca. Jurnal Agroekoteknologi 5(1): 72- 77.
Lehmann, J., Rillig, M.C., Thies, J., Marsiello, C., Hockaday, W.C. and Crowley, D. 2011. Biochar effects on soil biota - A review. Soil Biology and Biochemistry 43(9): 1812-1836.
Manik, B.I.J. dan Ali, M. 2018. Pengaruh jenis tanah dan dosis pupuk urea terhadap pertumbuhan bibit kopi robusta (Coffea canephora Perre). Jurnal Online Mahasiswa Fakultas Pertanian Universitas Riau 5(1): 1-15.
Meiri, A., Nurmalia, R. dan Rifin, A. 2013. Analisis Perdagangan Kopi Indonesia di Pasar Internasional. Buletin RISTRI 4(1): 39-46.
Pangaribuan, D.H., Sarno, dan Suci, R.K. 2017. Pengaruh pemberian dosis KNO3 terhadap pertumbuhan, produksi, dan serapan kalium tanaman jagung manis (Zea mays Saccharata Sturt). Agrotrop 7(1): 1-10.
Ribera, J., Gandia, M., Marcos, J.F., Bas, Md.C., Fink, S. and Schwarze, F.W.M.R. 2017. Effect of Trichoderma-enriched organic charcoal in the integrated wood protection strategy. PLoS ONE 12(8): e0183004. https://doi.org/10.1371/ journal.pone.0183004.
Rusli, Sakiroh, dan Wardiana, E. 2015. Pengaruh pemupukan terhadap pertumbuhan, hasil dan kualitas biji empat klon kopi robusta di tanah Podsolik Merah Kuning, Lampung Utara. Jurnal Tanaman Industri dan Penyegar (TIDP) 2(2): 107-112.
Sasmita, K.D., Anas, I., Anwar, S., Yahya, S. and Djajakirana, G. 2017. Application of biochar and organic fertilizer on acid soil as growing medium for cacao (Theobroma cacao L.) seedlings. International Journal of Sciences: Basic and Applied Research 36(5): 61-273.
Sitorus, U.K.P., Siagian, B. dan Rahmawati, N. 2014. Respons pertumbuhan bibit kakao (Theobroma Cacao L.) terhadap pemberian abu boiler dan pupuk urea pada media pembibitan. Jurnal Online Agroekoteknologi 2(3) : 1021 – 1029.
Verheijen, F., Jeffery, S. and Bastos, A. 2010. Biochar Application to Soils. JRC Scientific and Technical Reports.
Zhang, H. 2014. Biochar Effects on Soil Microbial Biomass and Activity. Canada: University of Guelph.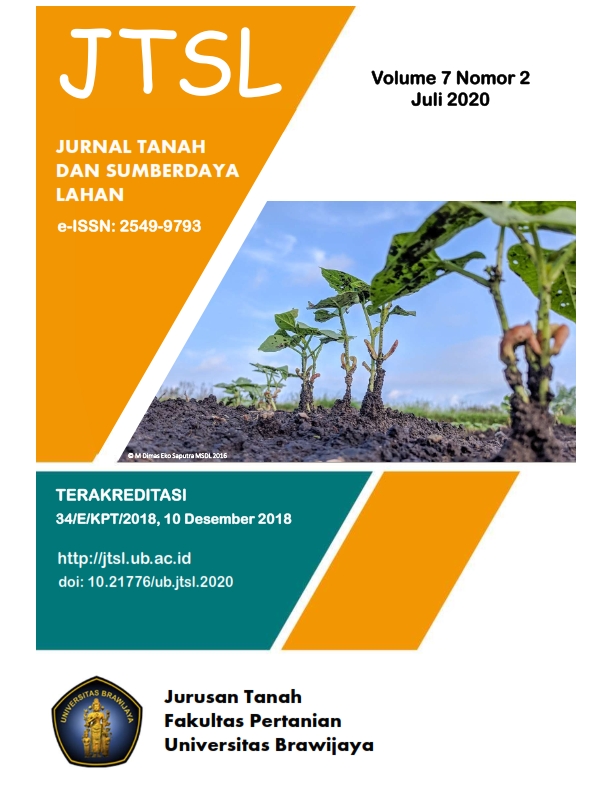 Downloads
How to Cite
Nastiti, W., & Prayogo, C. (2020). PEMBERIAN BIOCHAR DIPERKAYA TRICHODERMA DENGAN PENAMBAHAN AMONIUM NITRAT UNTUK MENINGKATKAN PERTUMBUHAN BIBIT KOPI ARABIKA. Jurnal Tanah Dan Sumberdaya Lahan, 7(2), 351–357. https://doi.org/10.21776/ub.jtsl.2020.007.2.20
License
The copyright of the received article shall be assigned to the journal as the publisher of the journal. The intended copyright includes the right to publish the article in various forms (including reprints). The journal maintains the publishing rights to the published articles.

This work is licensed under a Creative Commons Attribution-NonCommercial 4.0 International License.