PERAN BAHAN ORGANIK DALAM MENURUNKAN DAMPAK PAPARAN PESTISIDA TERHADAP KESUBURAN TANAH DAN SERAPAN HARA TANAMAN SAWI
Keywords:
exposure, nutrient uptake, organic matter, pesticide
Abstract
Pesticide exposure in the soil is indicated to affect soil fertility as well as nutrient uptake by the plant due to its active ingredient that can affect soil sorption. This research focused on organic matter effect on soil fertility (pH, organic-C, N, P, K) in the soil under several doses of pesticide exposure as well as nutrients (N, P, K) uptake by the green mustard plant. Treatments consisted of control, d and four doses of pesticide application (50%, 100%, 150%, 200% of recommendation dose), four doses of pesticide application combined with two doses of manure application (0 and 2 t ha-1). Soil pH, organic C, N, P, and K were measured before treatments and after harvest. Nutrients uptake (N, P, K) and yield of green mustard were measured at harvest.  Results of the study showed that the exposure of pesticide in soil reduced the yield of green mustard by 40% compared to control. Nutrients (N, P, K) uptake by plant decreased by 72%, 92%, dan 78% compared to control in soil with exposure of 0,2 ml pesticide 500 ml-1 water even though with the addition of organic matter.
References
Afandi, F.N., Siswanto, B. dan Nuraini, Y. 2015. Pengaruh pemberian berbagai jenis bahan organik terhadap sifat kimia tanah pada pertumbuhan dan produksi tanaman ubi jalar di Entisol Ngrangkah Pawon, Kediri. Jurnal Tanah dan Sumberdaya Lahan 2(2) : 237-244.
Allison, F.E. 1973. Soil Organic Matter and Its Role in Crop Production. Elsevier Scientific Publishing Company, Amsterdam. 1961.
Collins, C., Fryer, M. and Grosso, A. 2006. Plant uptake of non-ionic organic chemicals. Environmental Science and Technology 40: 45-52.
Essays, UK. 2013. Nutritional Needs of Plants. Diakses padahttps://www.ukessays.com/-essays/biology/factors-affecting-mineral-nutrient.php?vref=1, tanggal akses 26 Juni 2018
Glover, A.M. dan Tetteh, F.M. 2008. Effect of pesticide application rate on yield of vegetables and soil microbial communities. West African Journal of Applied Ecology 12: 1.
Gondar, D., Lopez, R., Antelo, J. and Arce, F. 2013. Effect of organic matter and pH on the adsorption of metalaxyl and penconazole by soils. Journal of Hazardous Materials 260: 627-633
Hardjowigeno, S. 2003. Ilmu Tanah. Akademika Presindo. Jakarta.
Hwang, J.I., Lee, S.E. and Kim, J.E. 2017. Comparison of theoretical and experimental values for plant uptake of pesticides from soil. PLoS ONE 12: e0172254.
Motoki, Y., Iwafune, T., Seike, N., Otani, T. and Akiyama, Y. 2015. Relationship between plant uptake of pesticides and water-extractable residue in Japanese soils. Journal of Pesticide Science 40: 175-183.
Rukmana, R. 2005. Bertanam Sawi dan Petsai. Jakarta: Penebar Swadaya.
Setiyo, Y., Gunam, I.B.W., Gunadnya, I.B.P. and Tika, I.W. 2016. Bioremidiasi In Situ Lahan Tercemar Pestisida oleh Mikroba yang ada pada Kompos. The Exellence Research Univ. Udayana 2011.
Sulistinah, N., Antonius, S. dan Rahmansyah, M. 2011. Pengaruh residu pestisida terhadap pola populasi bakteri dan fungi tanah di rumah kaca. Jurnal Teknologi Lingkungan 12(1): 43-53.
Sutanto, R. 2001. Pencemaran tanah dan air tanah oleh pestisida dan cara menanggulanginya. Jurnal Perlindungan Tanaman Indonesia 7(1) 7ahun 2001.
Takata, Y., Tani, M., Kato, T. and Koike, M. 2011. Effects of land use and long-termorganic matter application on low-molecular-weight organic acids in an Andisol. Journal of Soil Science and Enviromental Management 2(10): 292-298.
Zhang, Z., Shan, W., Song, W., Gong, Y. and Liu, X. 2011. Phytotoxicity and uptake of chlorpyrifos in cabbage. Environmental Chemistry Letters 9 (4): 547–552.
Zhu, H. and Selim, H.M. 2002. Retention and mobility of deltamethrin in soils: 1. Adsorption-desorption. Soil Science 167(8).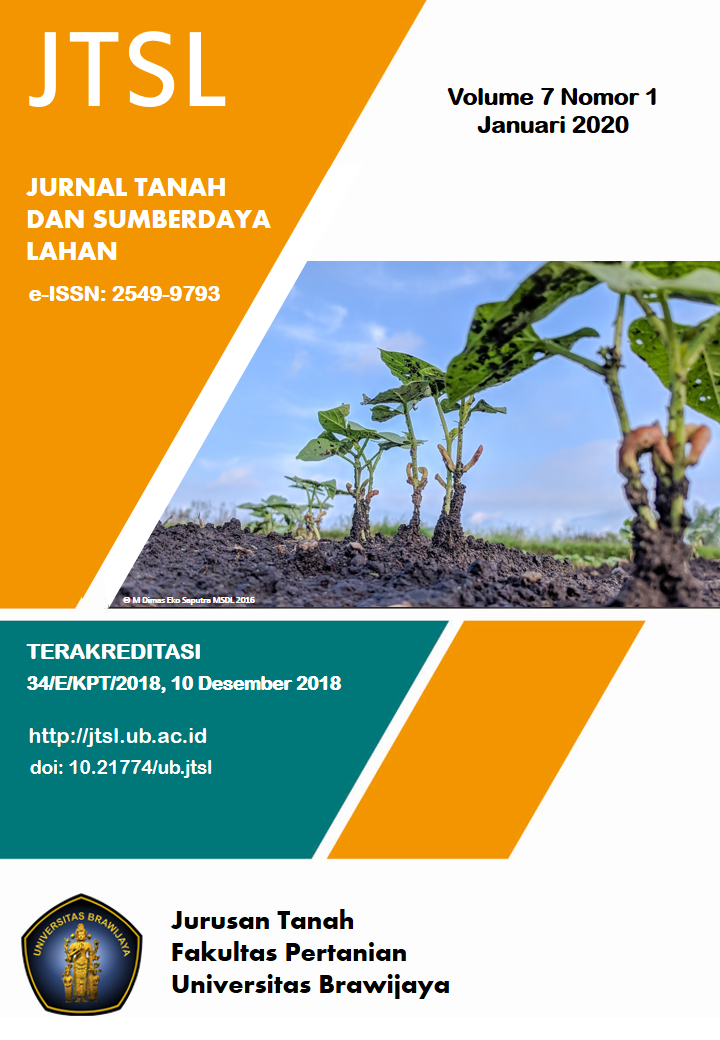 Downloads
How to Cite
Kusumarini, N., Sayifudin, S., Kautsar, F. D., & Syekhfani, S. (2020). PERAN BAHAN ORGANIK DALAM MENURUNKAN DAMPAK PAPARAN PESTISIDA TERHADAP KESUBURAN TANAH DAN SERAPAN HARA TANAMAN SAWI. Jurnal Tanah Dan Sumberdaya Lahan, 7(1), 127–133. https://doi.org/10.21776/ub.jtsl.2020.007.1.16
License
The copyright of the received article shall be assigned to the journal as the publisher of the journal. The intended copyright includes the right to publish the article in various forms (including reprints). The journal maintains the publishing rights to the published articles.

This work is licensed under a Creative Commons Attribution-NonCommercial 4.0 International License.